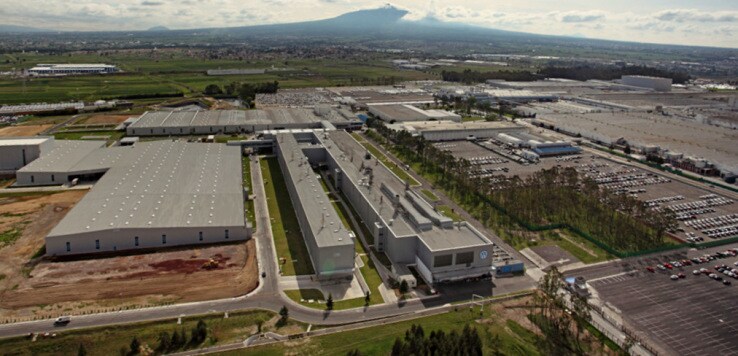 # Where the Magic Happens: A Glimpse into Volkswagen's Puebla Factory

It all began with the Beetle. That's an opening line fit for Volkswagen's storied origins, and one also parallel to the automaker's Puebla, Mexico manufacturing facility. Since 1964, the facility and its 15,000 employees have been tirelessly delivering Volkswagen vehicles to all corners of the globe-including Canada, where we've been receiving the fruits of their labour beginning with the Jetta and Golf since 1993.
In its now half-century of operation, the factory has built ten million cars and counting. Its massive grounds-740 acres!-awards itself the honour of being Volkswagen's second biggest factory in the world, after its headquarters in Wolfsburg, Germany. In order to churn out such impressive numbers day in and day out with uniform quality, there are 426 robots to assist employees. The factory operates 24 hours a day from Monday to Friday, split into three shifts. Weekends are reserved for equipment and robotic maintenance. Despite the facility's zeal, it's one of the most environmentally friendly in the world. Stereotypes of smog-choked views don't apply here. An underground lagoon houses rainwater, the facility's chief source for cooling towers that retains optimal operation temperatures for the robots and machinery.
Both thoughtful and efficient in its logistics and operations, Volkswagen de Mexico is a source of great pride for the town. Salary is three times that of the Mexican average wage, and carves a conscientious and forward-looking path for the town's aspiring students, who can take up apprenticeship and internships at the factory.
Volkswagen de Mexico will be the birthplace of the Golf's latest iteration. Now in its seventh generation, the 2015 Golf will arrive in showrooms later this year.
Date Posted: February 6, 2014