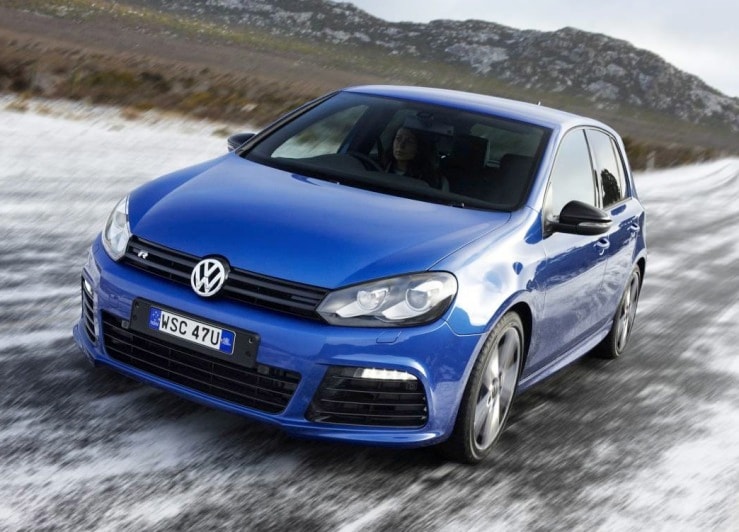 # 2015 Golf R's Impressive Debut on Ice 
There remains a year's worth of waiting time, but the 2015 Golf R proves far too exciting to not spark any enthusiasm.
Despite a sturdier structure and a more robust silhouette (longer, lower, and wider) than its predecessor, it's managed to shed weight-contributing to its honour of being the fastest Golf ever built, able to achieve 0-100 kilometres per hour in less than five seconds. Its 290hp can be pushed in full to the rear wheels if needed, and its Haldex differential continuously moves power from the front to rear.
Though speedy, the 2015 Golf R will remain more safe and stable than ever. There is an electronic stability program (ESP), which can be completely shut off to allow a true driving enthusiast to have full control over the vehicle.
Its latest demonstration on ice shows off just how incredibly the Golf's 4Motion all-wheel drive does distributes traction, alongside the versatility and performance of its three driving modes (Stability, Sport, and Race). The Race mode opens up the butterfly valves in the exhaust, giving the Golf R a growl worthy of a four-wheeled king of the automotive jungle. It also sharpens the throttle response, steering wheel precision, and gearbox sharpness when equipped with the Direct Shift Gearbox 6 speed dual-clutch automatic.
North-American consumers may know the Golf R as only either manual (in 2004 and 2013) or automatic (in 2008), but for the first time, they will be privy to a choice of transmission for the five-door hatchback 2015 Golf R. It will come in either a six-speed manual or six-speed DSG auto. Start planning your financing plans and road trips accordingly-you'll want this all-fulfilling Golf R in your driveway. 
Click the CC button on the video screen for subtitles, enjoy!