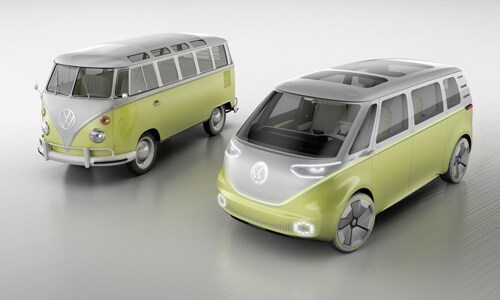 Volkswagen Gives Green Light To I.D. Buzz Microbus Production

Volkswagen I.D. Buzz Microbus has been given the green light for production. The concept, which aims to revive the spirit of Volkswagen's classic Microbus, was first displayed at Detroit Auto Show in January alongside two other I.D. line concepts introduced by Volkswagen.
The Microbus concept shows just how many different body styles could be adapted to Volkswagen's new electric platform.
VW's division chief Herbert Diess told AutoExpress the I.D. Buzz Microbus will be joining the original I.D. concept as a production model within the next decade. "Emotional cars are very important for the brand," said Diess. "We are selling loads of Beetles still, particularly in U.S. markets. But we will also have the Microbus that we showed, which we have recently decided we will build."
The Microbus will be built on modular electric drive (MEB) platform which is common in the I.D. family as it was developed specifically to underpin electric vehicles.
Volkswagen has claimed the Microbus would get 372 miles on a charge based on the New European Drive Cycle. In the U.S., the Environmental Protection Agency gives it 270 miles per charge.
Although we are expecting the concept car's design to be toned down in the coming years, the production model will still be recognizable as a heir to the hippie van.
Volkswagen's design boss Oliver Stefani hinted the I.D. Buzz concept could ultimately lead to a wide lineup of retro-inspired cars.
"The T1 also had some family members, like the pick-up, the camper, the Samba. I think there are a lot of possibilities with this car," said Stefani.
The retro inspired I.D. Buzz is estimated to be released at production level in 2021 or 2022.
Content courtesy: HybridCars